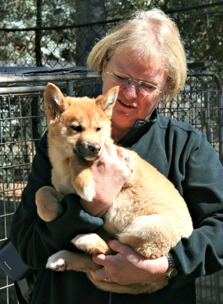 Red-Alert´s Kennel is situated 100 km from Gothenburg direction Jönköping. Nearest town is Ulricehamn.
My husband and I have a small farm and we are breeding sheep and Australian Cattledogs and producing and selling genuine Swedish crayfish. We are also involved in fishing tourism with guests from many European countries.
My first Australian Cattledog was introduced to the family 1994 and our first litter was born 1998. I have visited Australia 2 times and studied the breed and the origin of the breed, the Dingo. I have also visit the American Cattledog Club, ACDCA, 4 times and studied the breed there and specially the herdingtrials.